Meals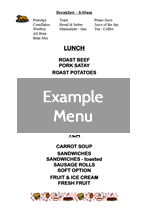 All meals and snacks are provided with variety of choice; a country home-style theme to our meals while in keeping with residents' dietary likes and requirements is the focus of our food services. All meals are prepared on site, fresh daily to ensure residents recieve the highest quality. Meals are tailored for the residents to suit their dietary needs, this is undertaken in conjunction with clinical staff to ensure residents safety and satisfaction.
Personal Belongings /Valuables
Residents are encouraged to bring their personal belongings and memento's for their rooms as is practicable, in keeping with our philosophy of respect for individuality.
For the convenience of residents there is a 'valuables ' safe in the Nurses Station. Small amounts of monies are kept for the convenience of residents wishing to use this facility and a record of deposit and withdrawal will be kept by the Charge Nurse on duty.
A Trust Account service is also available to residents. However, a small administrative charge is applicable.
Clothing and Laundry
Personal clothing will be laundered on site. Residents or families are requested to ensure proper discreet labelling of personal clothing to enable housekeeping staff to return appropriate clothing and prevent loss. Regular checking of appropriate labelling of items by families would be appreciated.
We ask that woollens and delicate clothes need to be laundered by the family.
The Housekeeping Co-Ordinator, Site Manager, or the Director of Clinical Services can provide information on where to purchase name labels.
Alternatively Violet Town Campus through the housekeeper can organise the ordering and sewing at a cost.
Violet Town Campus will not take responsibility for items of clothes lost due to non-labelling.