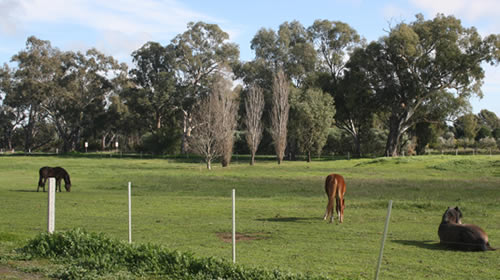 Residential care
The rural feel and views to the countryside is the idyllic setting of the Violet Town Campus, this is enhanced by the three gardens accessible to each unit.
Residents are encouraged where possible to be engaged in activities in the garden with raised garden beds making it easier for them to tend the vegetables. Ferdinand the goose, chickens and a rooster have pens in the sound shell area attached to the garden.
Pets play an important role at the centre with each unit or section having at least one.
The sound shell area See photo below hosts concerts and barbeques and is a safe and secure spot for families visiting relatives or friends.  A recent opera performance and the Christmas pageant put on by staff were highlights not only for residents but the wider community.
All residents are encouraged to participate in or watch activities. Families are encouraged to become involved in all activities and to join with residents for meals at any time. The VTBNC aims to meet the individual needs of each resident.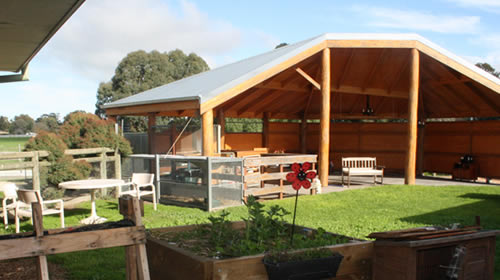 Other activities include:
A community Walking Group – where residents are taken out in wheelchairs.
Monthly visits by Peranbin Primary School students for games, music etc. Residents recently also visited the school for Open Day.
Church services held weekly on Thursdays at 2.30pm and special services held on significant days in the chapel.
Residents Group – meets monthly with the DON and activities worker with residents  encouraged to be involved in the running of the meeting. Quarterly evening meeting are held to allow families to attend.
Outings including shopping bus trips to Euroa and visits to attractions in the area, eg Beechworth, Mansfield, occur regularly. Residents are assisted to attend local events whenever possible. eg Anzac Day services, local football, cinema etc.
Wednesday Happy Hour occurring in the hostel, organised by the residents.
Gym  - with three sessions available for weight and strength training, meeting the individual needs of residents.
Music -pianos are located in the centre and regular Singalongs are held.
Local trips when residents are assisted to go shopping locally, visit the library and attend the market when needed.
There is a hairdresser at the facility on a Monday or residents are able to visit the local hairdresser.
A counselling service available for residents if required.
IT support  provided to residents if needed. eg skyping family.
The VTBNC aims meet all the individual needs of residents socially, emotionally, spiritually, cogitatively and physically.
Planned Activity Group/Day Therapy Program
Day Therapy
Our in house Day Therapy Centre provides Day Care to elderly citizens in our community, but also provides activities and socialisation opportunity to our Hostel and Nursing Home residents. Day Therapy participation is open to all Hostel and Nursing Home residents free of charge.
For a healthy life, both mind and body need to be looked after. We take care that the quality of food served and the choice, preparation and presentation of meals is appealing, nourishing, nutritional and in keeping with country cooking.
Special dietary requirements are catered for and the consultation of a dietician is available.