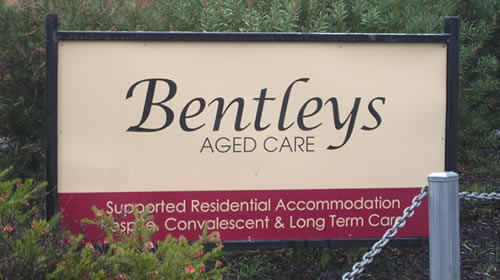 Nestled in the outskirts of Bendigo East, (47 Harpin Street Bendigo) this modern facility offers Members of the Community the opportunity to live in a supportive setting that offers retirees the highest level of service to meet their health and wellbeing needs. The focus of the facility is providing an environment for residents where they can enjoy this phase of their lives in a community atmosphere, with a large choice of activities and services.
Inspections Welcome
We encourage anyone to come in and take a look around, meet with our staff and get a feel for the facility. To arrange an appointment please contact:
Wendy Rogash
Facility Manager
5444 4050
Email: This email address is being protected from spambots. You need JavaScript enabled to view it.
Types of Care
With 56 rooms, 48 single and 8 double/twin rooms, Bentley offers new residents a range of services and rooms, currently Bentley's is providing
Supported Residential Services
Where residents who require modest support can stay permanently with us and receive the highest level of clinical care offered by a Support Residential Service. With Register and Enrolled nurses on site 24 hours a day, our facility offers a high standard of clinical care.
Respite
Private Respite Services are on offer for Residents and Families that need support for an upcoming event or when the Carer needs a break. We ensure that anyone on respite has an outstanding experience with us at Bentley's, they are made to feel a part of the family.
DVA Convalescent Care
Bentley's Aged Care services is affiliated to the Department of Veterans Affairs enabling the facility to provide Convalescent care to eligible members of the community. For more information about DVA services click here
Transition Care Program
Bentley's working in Partnership with Bendigo Health in providing the Transition Care Program. For more information about Transition Care click here
Personalised Services
Bentley's is a place where we embrace life, residents who stay here have access to regular activities that cater for their diverse interests. We are very focused on delivering a personalised approach to the health and wellbeing needs of our residents. We work in partnership with the resident and their doctor to ensure they are comfortable at all times.
Nursing Care
With 24 hour on site nursing support the Bentley's Aged Care team ensure that all residents have personalised care plans that reflect the needs of the resident; issues such as food and meal preferences, medications and weight management are some of the critical issues that the staff focus on. Through regular monitoring the Bentley's Aged Care Team ensuring the highest clinical standards are met.
Activities Program
To compliment this high standard of care, Bentley's has a comprehensive activities program that enables residents the opportunity to still do many of the things that they loved in a supportive environment. Based upon feedback we receive from new residents and their families we develop a meaning program of events that supports the resident's transition into our facility
Food
Meals that are tempting and delicious are the cornerstone of our services here at Bentley's Aged Care. We pride ourselves in delivering highly nutritious meals that meet the needs of the residents from a health perspective, but at the same time having a focus on satisfying the tastebuds as well.
Other Services
Onsite laundry service where resident's clothes are laundered daily
Library
Spacious library and activities centre where the residents can relax, read, watch their favourite movie or entertain family and friends who come to visit.
Pastoral Services
A visiting Pastoral Care Worker comes on site to support residents and Families in need of support